Regular price
Sale price
$62.00 CAD
Unit price
per
Sale
Sold out
Satisfaction Guarantee

48 HOUR FRESH FLOWER GUARANTEE

Flowers are a natural thing - and sometimes they behave in a way we can't predict. If you feel your arrangement has done something unpredictable that isn't making you smile - send us an email at hello@mayflowers.ca with photos of the full arrangement with the area of concern in frame.
Delivery Information

We deliver our orders all throughout the City of Toronto Monday-Saturday. We also deliver to Mississauga, Brampton, Vaughan, and Richmond Hill for an additional fee.

To select a delivery date, follow the prompts in your cart.

View our full Delivery Policy here.
Cancellations & Returns

Upon receiving your order, our team promptly sources the blooms for your order! For this reason, we require a 48 hour notice prior to the scheduled pick-up/delivery date. Successful cancellations are eligible for store credit only.

Orders that have already been created can be redirected to a different location (additional delivery fees may apply) or be picked-up in store however, are not eligible for a store credit.

See our full Refund/Cancellation policy here.
Share
Description

Peace lilies (Spathiphyllum) are popular and elegant houseplants known for their beautiful white flowers and air-purifying properties. Here are care instructions to keep your peace lily healthy and flourishing:


| | |
| --- | --- |
| Light | Peace lilies require bright, indirect light but are tolerant to low light conditions. Place them in a well-lit spot with filtered sunlight, but still avoid direct sunlight to prevent leaf burn.  |
| Water | Water your peace lily when the top inch (2.5 cm) of the soil feels dry to the touch. They are sensitive to overwatering, so ensure the soil has good drainage, and avoid letting the plant sit in standing water. |
| Soil | Use well-draining and rich potting soil for your peace lily. A mixture of peat moss, perlite, and pine bark provides good drainage and nutrients. |
| Temperature | Keep the temperature around your peace lily between 65°F to 80°F (18°C to 27°C). Avoid exposing it to cold drafts or temperatures below 55°F (13°C). |
| Humidity | Peace lilies prefer higher humidity levels. If the air in your home is dry, mist the leaves occasionally or use a humidifier to increase the humidity around the plant. |
| Toxicity  | Pilea spruceana is generally not known to be toxic to humans or pets, making it a pet-friendly houseplant option. |
Product Details
The Dorado Pot is 7"X 6.75"
Please Note: All plants vary in size, length, shape and colour. Photo is for reference only.
View full details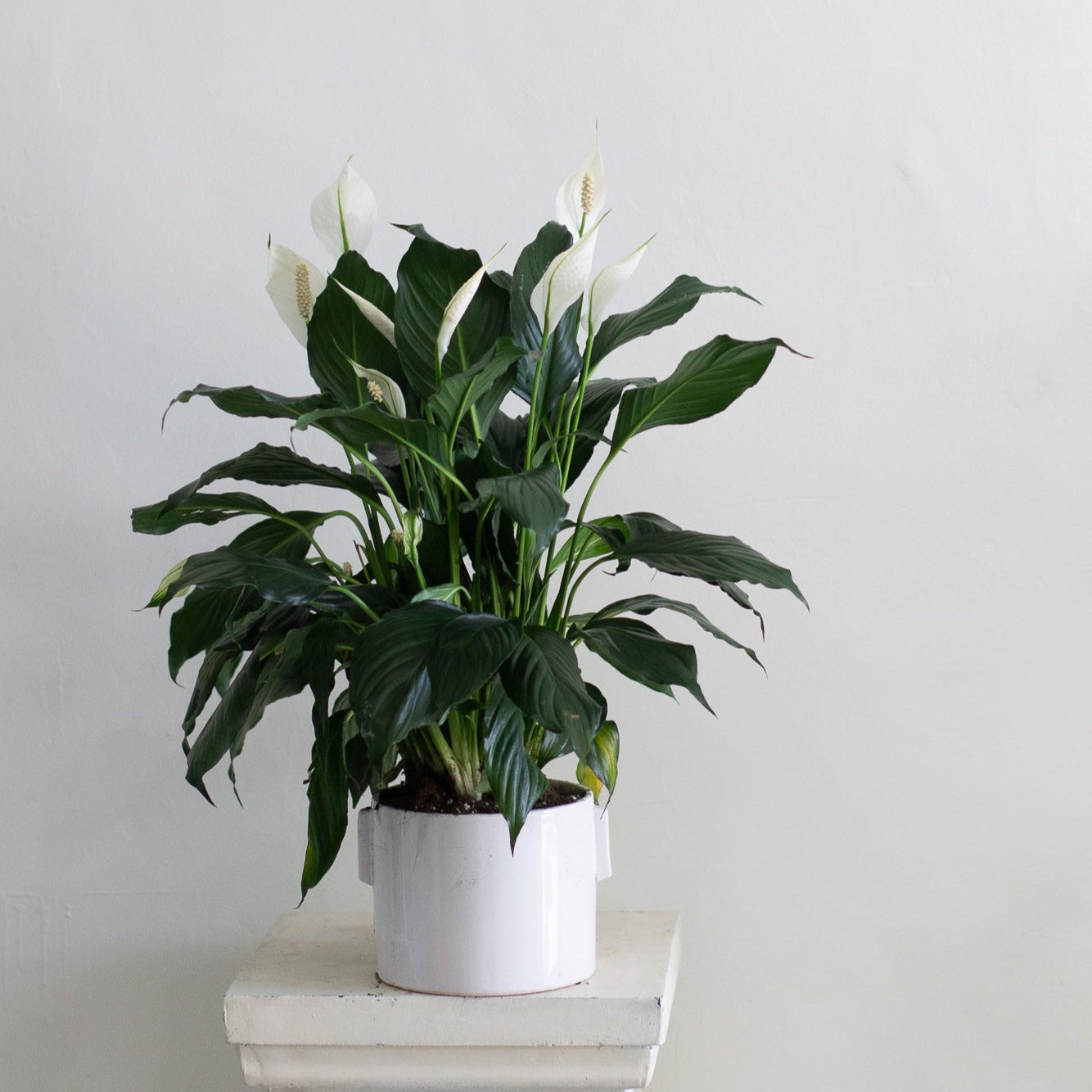 MODERN FLORAL DESIGN BY ARTISTS & CREATIVES

FREE DELIVERY OVER $150. SAME DAY DELIVERY UNTIL 12PM

GET A PHOTO OF YOUR ORDER SO YOU CAN SEE WHAT YOUR RECIPIENT RECIEVES

ALL DELIVERIES ARE CARBON NEUTRAL

INDEPENDENT, WOMAN-OWNED SMALL BUSINESS
celebrate every moment with flowers designed by floral artists